The 2021 Annual Meeting (AM) of the Netherlands Society for Statistics and Operations Research will be about spread. Four international speakers will reflect on modeling 'Going Viral' and modeling spread, or how to reduce the spread of COVID-19, from their field by using concepts from both statistics and OR.
Date: Thursday March 18, 2021
Location: Online on Zoom and Youtube
Time: 12:00 – 17:15 (CET)
Tickets: Free
For the first time, this year the Annual Meeting will be an online streaming event on Zoom, meaning members and non-members from all over the world may attend. Registration is closed.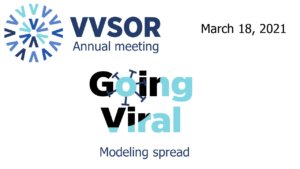 Program
Full program VVSOR-AM2021 (pdf)
We will start off with a general assembly for members from 12:00 – 13:00, followed by the start of the actual conference at 13:30 with the four talks and two award presentations. The AM conference of 2021 will be in English.
All times are in Central European Time (CET).
12:00 – 13:00 | Annual General Meeting (ALV) –

ONLY FOR MEMBERS

13:00 – 13:30 | Lunch break
13:30 – 13:45 |

Start of Conference


Welcome and Opening Talk by Casper Albers, President of the VVSOR
13:45 – 14:15 | Containment strategies for COVID-19 using mobility data | Prof. dr. N.V. (Nelly) Litvak, University of Twente / Eindhoven University of Technology
14:15 – 14:45 | Incorporating time-use and health data into a Dynamic Microsimulation Epidemiological model for COVID-19 | Prof. dr. G. (Gavin) Shaddick, University of Exeter

14:45 – 15:15 | Break
15:15 – 15:45 | From predictions to prescriptions: A data-driven response to COVID-19 | Prof. dr. D.J. (Dimitris) Bertsimas, Sloan School of Management at MIT

15:45 – 16:15 | Ceremony of the Willem R. van Zwet Award and the Jan Hemelrijk Award Prize winners will be presented by the juries, followed by a short presentation by the laureates
16:15 – 16:30 | Break
16:30 – 17:00 | Curbing the spread: observations, interventions, models, and predictions | Prof. dr. J. (Jacco) Wallinga, Leiden University/RIVM

17:00 – 17:15 | Final discussion with speakers & Closure
Abstracts
Abstracts VVSOR-AM2021 (pdf)
Registration
Registration is now closed. Please note, the first 100 VVSOR members have already registered, and therefore the pre-AM home delivered snackbox is unfortunately already 'out-of-stock'.
E-mail: annualmeeting@vvsor.nl
Registration Form VVSOR AM 2021
Registration for the annualmeeting is closed. If you have registered, but have not receive the access (Zoom) links before 11AM CET of the day of the conference (March 18th, 2021), please email us on annualmeeting@vvsor.nl
Gepubliceerd op: September 9, 2020