Statistica Neerlandica now has its very own  (iOS) app, available to download today from the App Store. Enjoy an entirely new browsing and reading experience, and keep up to date with the most important developments in statistics faster than ever before.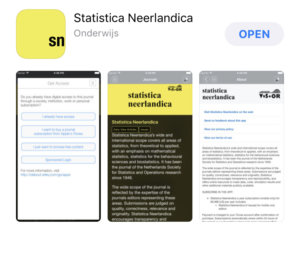 Download the app to enjoy the below benefits:
Early View Articles – rapid access to breaking research with articles updated as they publish
Download and save articles to your device – so you can view them wherever you are
Readable, print-like experience enhanced with dynamic figures, tables, and references
Dynamic References show references in context
Share article abstract, figures or tables via email
The app is free to download and offers full access to subscribers of Statistica Neerlandica, both personal and institutional.